reach your goals discover your creative mind
Hi everyone!
In this YouTube Video Session of the 52 week Art Challenge, we explore Harmony in Design. If you are just joining us, no worries, this is a great place to start.
Harmony in art and design is the visually satisfying effect of combining similar, related elements. For instance: adjacent colors on the color wheel, similar shapes, variance of line and texture, to name a few. The success of our art has everything to do with harmonizing the choices we make with the elements of art. Too much balance creates boring compositions while too many random abstractions can create a confusing composition that doesn't allow the eye to rest. I suggest taking a closer look at quilts, cubist art, and mosaics while thinking about balance and abstractions. What do you like? What is too much? What is too little? As we familiarize ourselves with our own "language of art" and our "visual vocabularies", we begin to learn the elements that create harmony in our work.
Happy Creating!
Robyn xx
Hey All!
I invite you to join me in this video where we explore the art of Mark Making. Random mark making with found items and hand made tools is a very inspirational, mindless activity that I do in my studio. I find that the results are very rewarding and stimulate many new ideas.
You can explore this art with a variety of objects… your hand, feathers, dried flowers, forks, paint brushes made of found materials, string, fabrics, and the list goes on and on, no limits, just explore. Surprise yourself with pleasing marks, new imaging tools that spark a new conversation regarding your art language.
Happy Creating!
Robyn xx
Hey everyone! Join me in my YouTube Video where we look into Texture and Pattern as part of the 52 Week Art Challenge. If you are just joining us, no worries, this is a great place to start.
Texture is important to me because I believe that it is one of the elements of art that brought our community together on YouTube. I'm often known for my "old wall" textures on papers using Gelli Printing.
I have always been attracted to texture, which I believe is my primary "element of art" It's texture that I go to fo first in any work of art. As an ArchaeoMythologist I've always been attracted to textural materials, the things of archeological digs. As I travel, I'm always taking pictures of walls with textures, natural pigments and unusual patterns.
I've always been one for treasure hunts, I owe this to my Mom who was an avid antiquer, and from the time that I was very young, she took me along with her on expeditions. My very first love, as I remember, were old books, many of which I still have! I love the patinas, the color and smells of the old books and papers, the sheen and texture of old textiles and old walls, and so much of this love is why I create. It is my constant desire to try to recreate in a much shorter time period the things that can take years in time to influence. This drives me, and I never tire of the process. I'm always looking to discover fresh techniques, to make new materials look aged and tell a story, "image dialogues" that will capture the imagination of my viewer.
How about you? What kind of textures are you drawn to?
Happy Creating!
Robyn xx
Hey All!
Our next subject in our 52 Week Art Challenge on YouTube was Forbidden Shapes. To participate in the video, just click here.
When I first encountered my "forbidden colors" I was so stunned and shocked that I had had such a strong visceral reaction to the colors that I hadn't been using in my art. As a result I became very introspective regarding all of the elements of art. As a visual artist who used color, texture, shapes, line, space, value, and form to tell my stories, my ArtMythos, it became important for me to discover more by asking myself one very fundamental question: Why have I limited the tools available to me, for creating my visual dialogues?
I pursued the answer to this question by going on similar encounters to the one I had done on "forbidden colors". I chose shapes next. During this period I discovered my absolute love of the circle and the ways I can use a circle that really speak to me. I've been using this shape for more than 20 years now in my work and I've yet to tire of it. I learned that it is an integral part of who I am and what inspires my stories. What shapes would you like to challenge yourself to explore in your artwork?
Happy Creating!
Robyn xx
Hey everyone!
I invite you to check out my YouTube Video on Forbidden Colors, which is part of our 52 Week Art Challenge. If you are just starting, no worries, you can start participating this week.
In this video we work on expanding our palette and playing with colors we normally do not use.
Doing this exercise caused one of those realizations that forever changed my life–as an Artist and a Colorist I had limited my use of various colors in my palette, simply because I didn't like a particular color. Armed with my toolbox as an Artist I had decided that certain colors had no place in my world.
At first this may not seem to be a big deal; however, when given the opportunity to discover what those colors may be and why you don't use them, then that knowledge becomes power and will set you reeling in incredible new directions.
For me, the first color that I discovered I had said no to was Pink. Yup, that's right. Pink. Years ago if you had asked me why no to pink, I would have retorted, "Oh it's girlie, weak, it lacks the ability to say no, too gender specific, it's what's expected of women to like, too fairy tale inspired…" It didn't signify a strong independent woman. When I finally allowed myself to play with pink and add it to my color palette consisting of earth tones, it made all the difference. Palettes that were once flat now could sing. Now years later having discovered how I had let misplaced emotion control my "color language" as an artist, I can't image painting without it.
I had realized that pink was connected to childhood feelings and memories that were no longer true for me as an adult woman. The fact may still remain that society pushes gender identity through color, etc. Yet, as an adult, a woman fully in control of my emotions, I had the ability to protect myself and represent myself in an empowering way, regardless of my use of pink or any other color!
This revelation allowed me to see that the color pink hadn't done anything to me and when used in a palette often times made the colors that I did favor much more dynamic.
Even when you have a color that you don't like, I've experienced that when I tweak it to find the right hue, that color will work better in my palette. How about you? Do you have a color you avoid using in your artwork?
Happy creating!
Robyn xx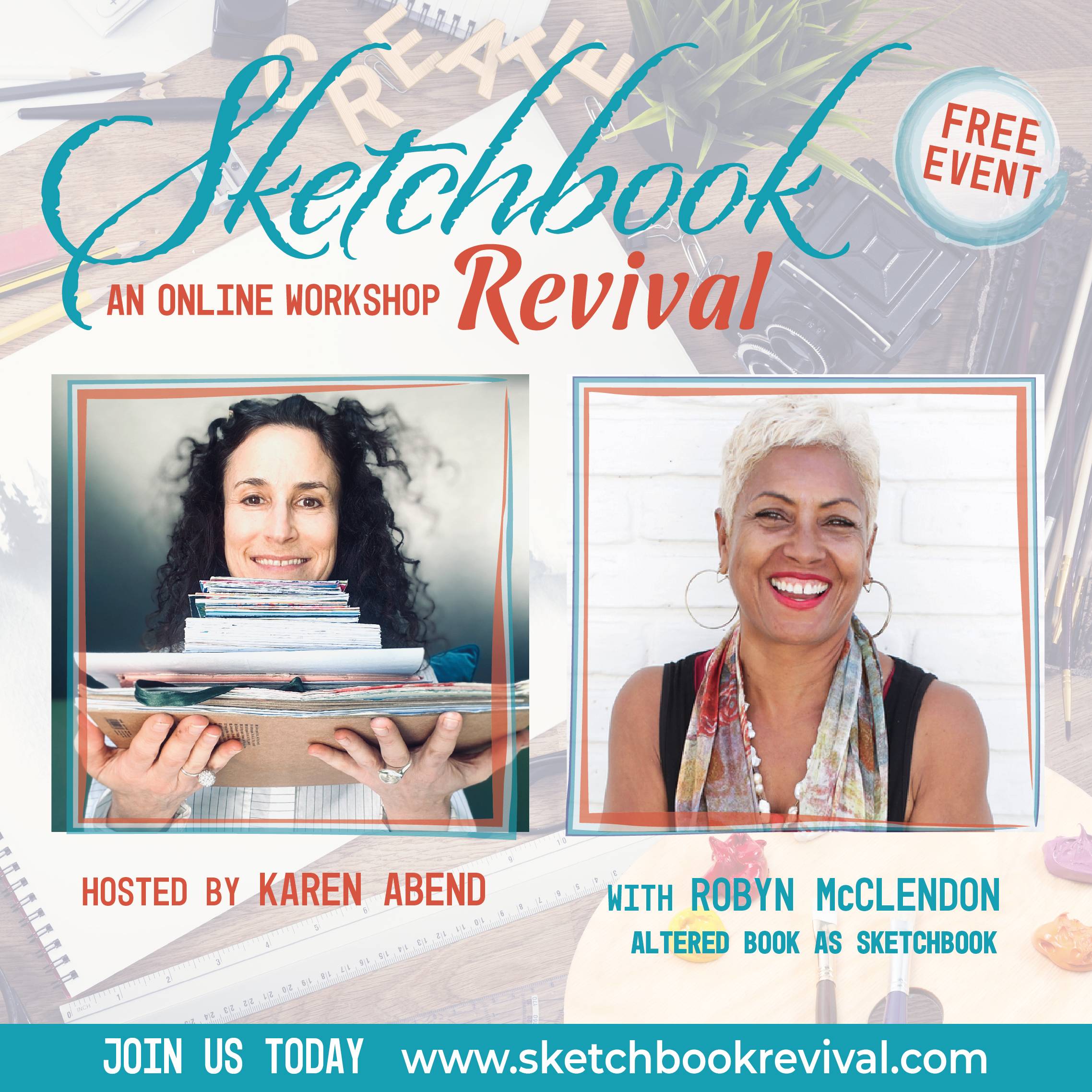 Hey all!
I wanted to reach out and share with you an opportunity for a free class with my friend Karen and I.
Imagine waking up every day brimming with ideas, excitement and confidence to open up your sketchbook and start creating, no matter what.
The 4th annual Sketchbook Revival Online Workshop is about to start, and it's all about making this vision a reality.
Consider it your invitation to sharpen your pencils, wipe off your palettes, pull out your sketchbooks, and get ready for a fresh start that's going to energize and revive your creative practice like never before.
When you sign up for the workshop, you'll be joining a global community of creativity enthusiasts who are saying yes to having more fun and freedom in their creative practices. Together we'll experiment and try new things while we
explore different approaches to filling up our sketchbooks
get new ideas and tons of inspiration
stretch and grow our creative muscles
build momentum and find our flow
revitalize our creative practices and ourselves!
So won't you join me? I'm leading a session on the Sketchbook Revival Online Workshop and I hope you'll say yes to this inspiring opportunity and come with me.
Now more than ever so many are looking forward to another round of Sketchbook Revival. Since the Workshop's inception, thousands have come away feeling more inspired and revived from the experience, with over 50,000 sign ups. This year it's happening again. We're filling up our sketchbook pages with ink, watercolours, acrylics, graphite, collage, crayon, mixed media and more to play and explore while expanding our practices. Sessions are lead by accomplished artists, illustrators, painters, mixed media artists, designers, educators, and art therapists (to name a few), from all over the world.
In my session we are going to make an altered book sketchbook. Using my printables I will show you how to make a pocket, flip out style journal with the altered book. The idea is to make large pockets and card inserts that you can draw, gelli print, or watercolor on. All in all, a different approach to sketchbook will be presented.
​
The best part about the workshop is that it's easy to participate. You'll be able to watch the sessions from the comfort of your own home, according to your own schedule and without spending a penny – it's completely free!
Are you feeling ready? It's the perfect opportunity to revive your practice with fresh inspiration, new ideas and tips from the experts (and have a lot of fun doing it). Sign up here.
My best,
Robyn xx
Hi everyone!
I'd like to share with you part six of our 52 Weeks of Art Journaling Challenge on YouTube. In this part of the challenge, we focus on the subject of truly giving ourselves permission to explore and enjoy our art and creativity.
I found that during my many years of teaching university, working with 4th year BFA students at the Corcoran School of Art and Resident Associate Artists with the Smithsonian Institution Museum systems, so many artists on all levels felt a bit guilty for being artists. Asked often by peers, some form of…"Shouldn't you be doing something 'more important' in life?"
We begin to realize that our conditioning, through learned behavior, causes us to doubt ourselves. The opportunity to sit down and just have fun creating can be interrupted when that little voice of judgement begins to remind us of what we should be doing or how we should be doing a thing, second guessing our decisions.
In an attempt to please that voice of self judgement, we can find ourselves in situations that don't nurture and support our dreams, passions, and desires. A feeling of being stuck comes over us, sometimes even hopelessness.
I can speak on this because I've been there. Being stuck can negatively influence our ability to be in the creative flow and enjoy our art, even if we decide to squeeze it in among our other responsibilities.
So this week as you journal, during your down time, and as you go about your day, become aware of all the areas in life that you have given your permission. Maybe some of these permissions were given years ago and are no longer relevant or serve you; however, they may still be playing a role in the ways you are structuring your time, your life.
I found when I took myself through this process I discovered that my mindset regarding self permissions was unclear and a bit fuzzy, lots of gray areas. Consequently, my creative time was affected. However, as I gave myself new permissions I empowered myself as an artist and creative. Those voices of self doubt in my head began to fade, I finally turned onto the path of just having fun, no right or wrongs, and devoid of judgements. I invite you to give this a try. Begin to observe the answers you get, and then release, rearrange and re-prioritize your world to support your "Creative Self".
Happy Creating!
Robyn
Happy Sunday All!
I invite you to check out part 5 of our 52 Week Art Journaling Challenge on YouTube. If you haven't started from the beginning, no worries, just jump right into the current week's prompts and venture back when you have time.
In this part of the challenge we focus on revelations about love.
Love is one of those words that we use to describe so much with just one term. We use it when expressing our feelings for those we love, our art and creative time, long walks, our pets, favorite travel destinations, and the list can go on and on. However, like permissions, I have found that old love connections can prevail and get in the way of our current goals, desires and dreams.
For instance, can you relate to this? At one point in your life you really enjoyed a particular activity, let's say going to the movie theater, but these days not so much. However you may have a spouse, or friend that still loves to go, and so with every new release here they come wanting you to drag out with them. Yet, it's not your thing any longer, you'd prefer to stay home and Gelli print…lol.
How do you handle that situation?
Can you recognize how important it is to re-assess old loves and disconnect or connect differently, so we are not just going along to get along?
I found it was the simplest things like this that happen daily, again like watching the morning or nightly news out of tradition when you get most
of your news off the internet these days, or fixing a full breakfast for the family when you don't eat heavy breakfasts anymore.
I'm asking that you, just pay closer attention to your daily activities this week and make notes on what ranks as a love and what can be dropped from the "must do" list in order to free up your time to allow you to focus on what you'd most like to be doing.
In the video, I wanted share and be a bit transparent, about how easy it is to "go along to get along" and one day it's possible as in my case, to look up and nearly everything I loved about my life had drastically changed. I share my road back to self, and the role journaling played in my healing.
Happy Creating!
Robyn xx
Hey everyone!
Over on my YouTube Channel we are continuing our art journaling challenge for this year. If you are new, remember that it is never too late to join in on the creating 🙂 In this video we will be creating journal pages around the theme of self-realization.
Part 4 Journal Prompt: Self Realization
"I have been a seeker and I still am, but I stopped asking the books and the stars, I started listening to the teaching of my Soul." ~ Rumi
In my journey it was not until I had the courage to take a long look at myself, what I liked and disliked, and the ways I enjoyed creating art without regard to what others thought, that I was able to embrace my uniqueness. This really helped me to no longer compare my work to others. There is nothing to compare. My work is my song to the world, like birdsong, a sparrow with its sweet tweets isn't even considering to compare itself to the call of a parrot.
As you work in your journal and in your studio listen to the quiet whisperings that come up as you work. I developed the habit of jotting these thoughts down as they rise up on the under sheet that I paint on. What amazes me is how potent these thoughts are when I re-read them, and so many of these thoughts have been the sparks for an entire body of work. This is how our inner muse inspires us and leaves little treasures as we work.
Art is a beautifully mystical spirit, that comes to us more and more as we free ourselves from the outside worlds opinions and judgements.
Happy Creating
Robyn
Hi everyone!
Many of you may already be participating in the 365 days of journaling on YouTube; however, it is never too late to join! Join me in this video in creating journal pages specifically around the topic of Awareness. Some yummy tools that we will play with are washi tape and Artezza's Amethyst Purple paint.
Part 3 Journal Prompt: Daydreaming, Awareness, and Awakening
Make a list of whatever makes you happy. Fantasize, play, and dream. Have a really good time and embrace anything that comes to mind. Your desires and visions, after all, are very important seeds for your art.
This exercise creates a space for you to become aware of dreams and desires you may not have given yourself space to reflect upon before. It seems that Awakening and Awareness are intricately connected. When we awaken, we rouse ourselves, which is a feeling to a new thought, idea, or course of action–we begin the process of awareness. Yet to become fully aware is to begin having knowledge or perception of a situation or fact.
Happy Creating!
Robyn xx